Do you know what type of parent you are? Are you more authoritative with your children, or more democratic? Whether you're a single mother of 2 or a father of 3, it is important to know what your parenting style is in order to better understand your relationship with your children.
Take the quick quiz linked above to find the results of your parenting  style!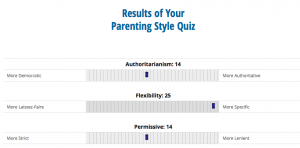 Above is an example of what your results will look like. The results are broken down into 3 categories with different scales comparing how authoritarian, flexible, and permissive you are in your parenting style.
Quizzes like this are great for reflecting and allow for personal growth. If you were shocked or surprised with your results, it can be an opportunity to learn and adjust your parenting style.
Being aware of your personal parenting style can be extremely beneficial when understanding relationships between parents and their children and can lead to successfully connecting with your loved ones.
Let us know what your favorite parenting tools are in the comments below!